In today's the basilica of 2 church: In the lower, not too interesting, are located tomb. But upper simply afflicts their interior, red-wolf colors which reminds the cathedral. As and in cathedral, here many color of, many painted by surfaces, but thanks to more brightest osv³tlennyu, looks all of this much brighter and versatility of. And, as and in cathedral, this polosatost constantly brings thought to G-mosque Cordoba - such a sense of, that central thereby, despite all human attempts's survival and obosobitsya, in another times reminds: I am uniform, you all are united, all your temples My, all religion have alone roots, recall their, forget about idols, return same finally exhorts "I don't genuine.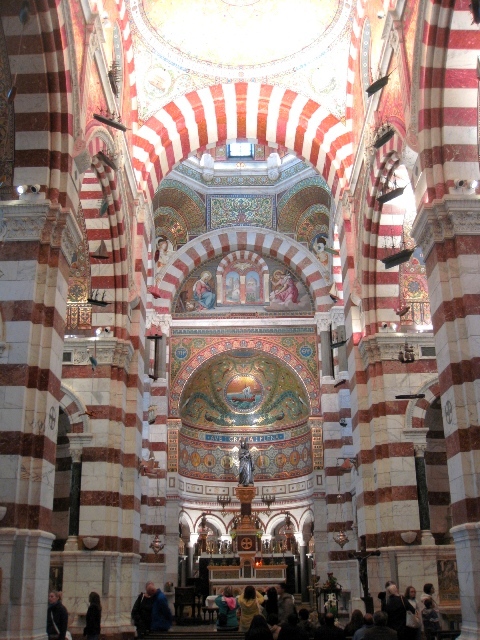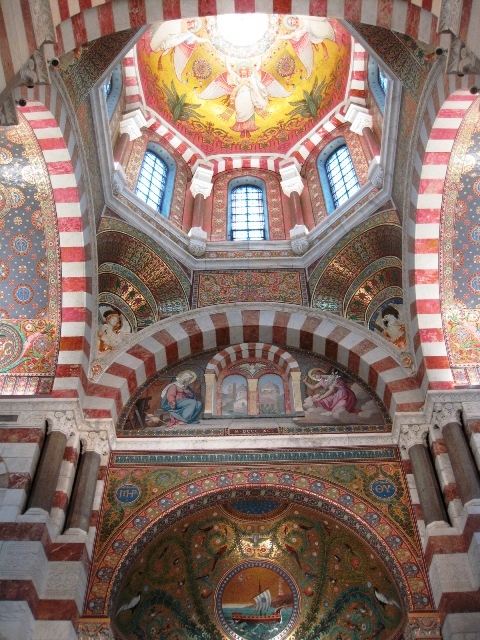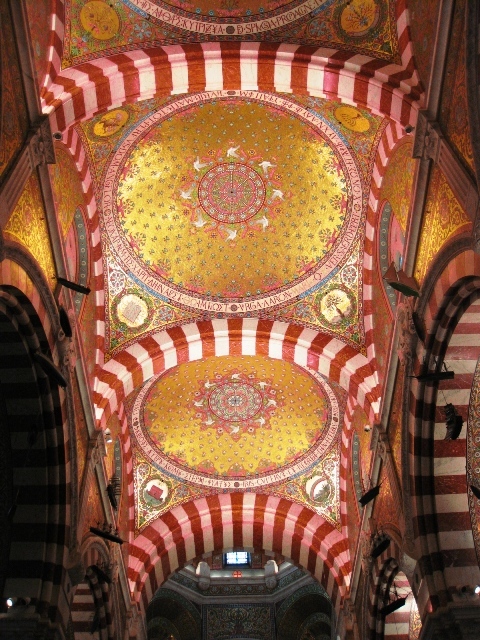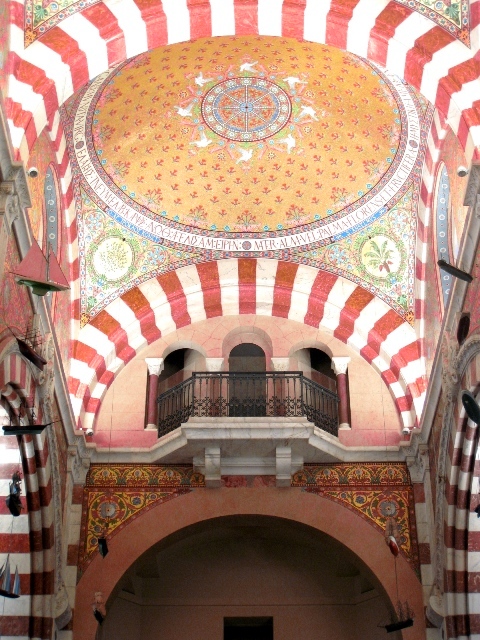 Here is exactly the Virgin-the keeper of the, in honor which jail of basil: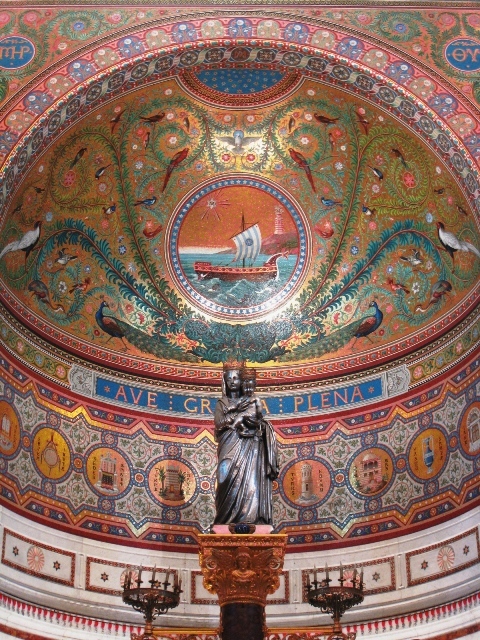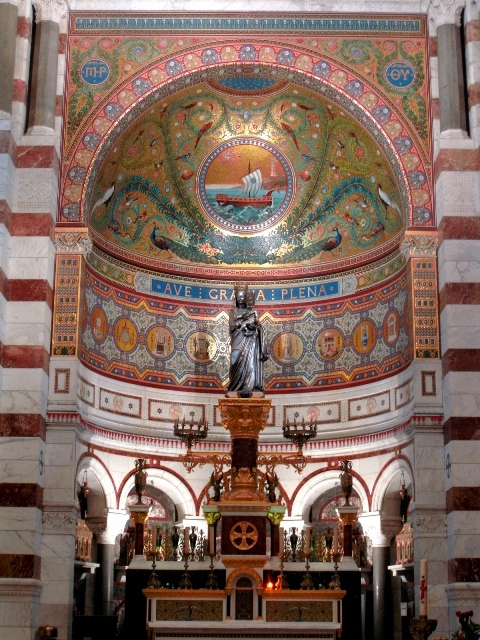 And here is those the most paper boats: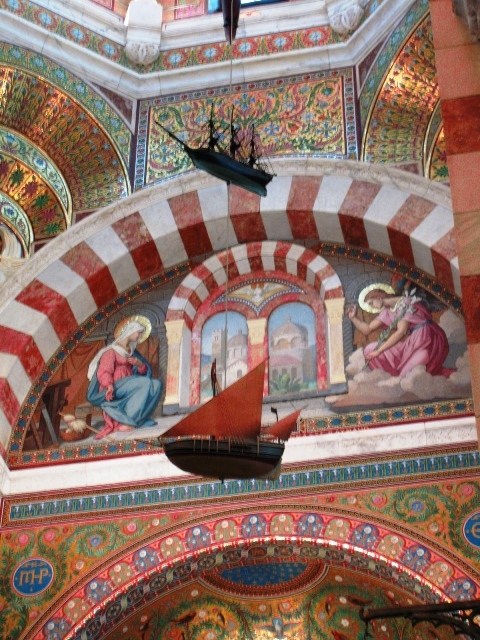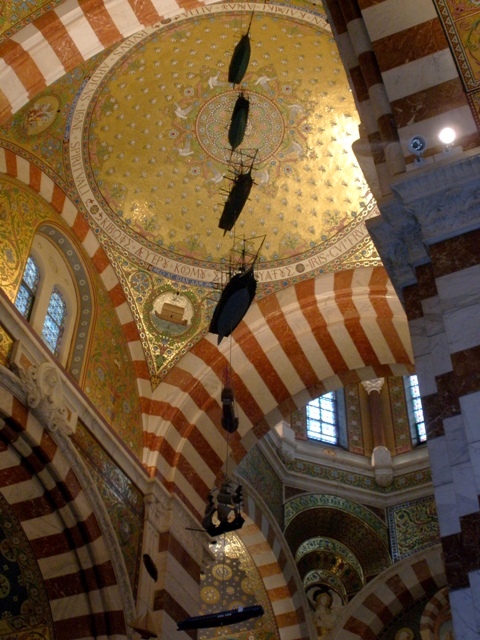 On the wall - gerb one of Valles of Marseilles Bishops followed: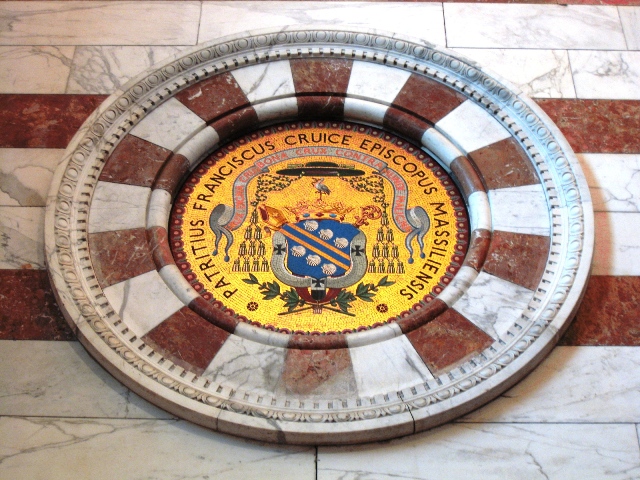 Talk, words there is no. So better simply watch: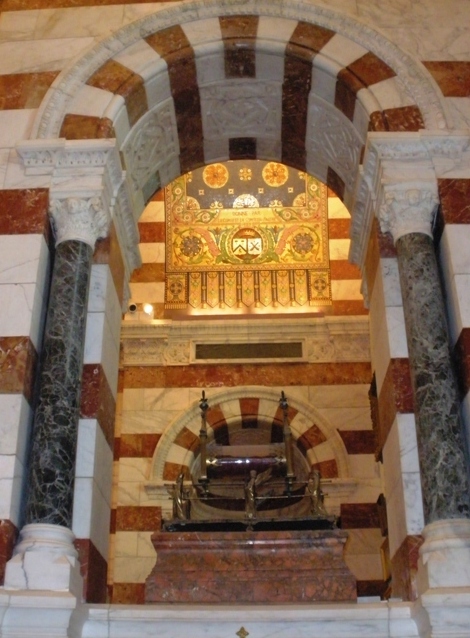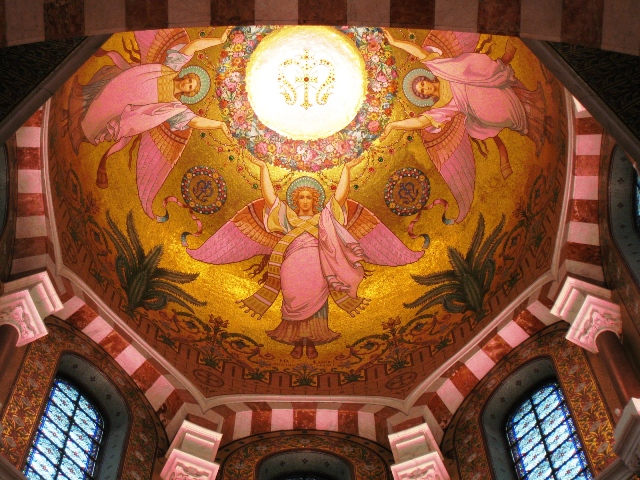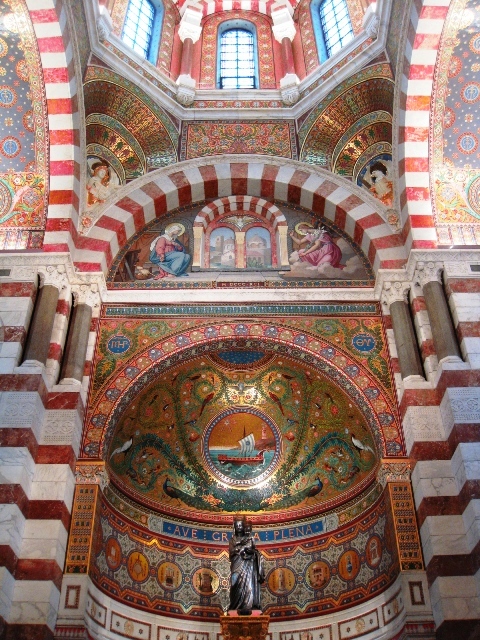 In some point rain a bit stalled, and we took to balyustradu get out, see from above on Marseille: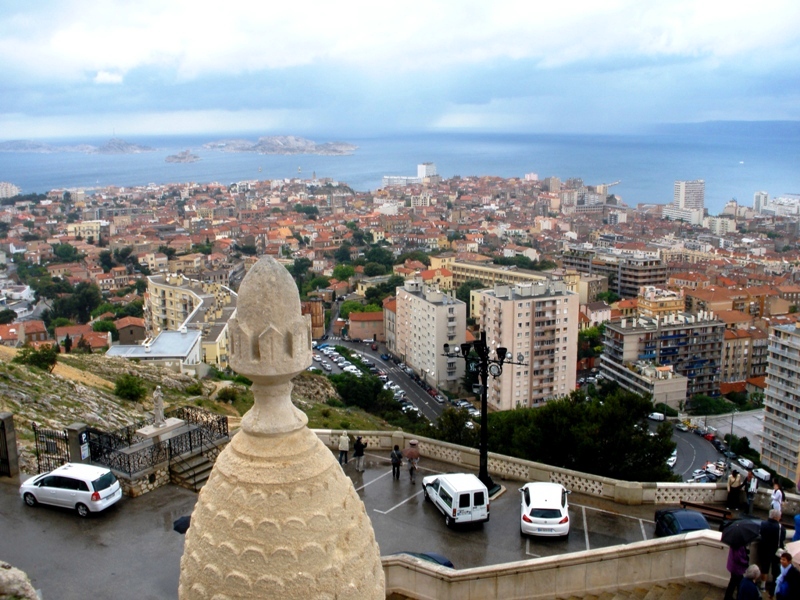 Far are visible islands, on really a small and its of which resides castle Aife.

Yes, Notre Dame quo la Garde very handsome. And us he grassroots. And this undeniable must see. But if honestly, Cathedral launched his rocket anyway on me more a strong impression. Me it is difficult explain this words. Basil the posh ones, but in cathedral more sakralnosti, more mystery, more Spirit. Moreover the most, from presence which I blagogoveyno got petrified in inaugurated by Blue mosque or in the middle Cairo'mosque Tulun. Their Wall were packed with "aroma time "," age-old wisdom ", they … however, I feel, that already'm be much more widespread. As I already said, here begins "territory ", on which words lose their significance and omnipotence. But I hope, that those who wanted to me understand, have made this.

In history Notre Dame quo la Garde there is another very curious moment, which reminded us case, primary in maltiyskom town Most's owner. During 2 th World War one of bombs not only engulfed in deep-Church, she has punched enormous dome, has fallen on gender and. Not disconnected. Something similar happened and in Marseilles. Before retreat from cities Germans've wired Basilica, however in set time explosion not was followed by. The bomb squad have learned happy from the lower church in absolutely we take able and made on an unpopulated coast. That here do you say - "- Inch'Allah!"
When we leave Notre-Dame, rain again is intensifying. To prevent what she called, already from windows bus, we do here is such "you" photo stop: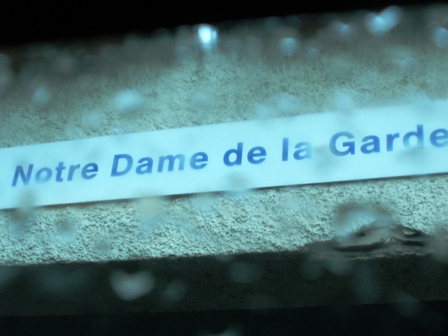 Our walk along historian ended with. Weather contributed their unpleasant readjustments, until trains remained more two hours, but go somewhere even was is thus meaningless. So we have reached in unerringly, [things and residue time, as would this were nor was, conducted in vokzalnom spied a expectations, having looked movies on planshetnike. Increasingly-??? very comforting this a device for travel nalegke, not for good reason I long waited, until in the classroom between open, and myselfjust a notepadami will emerge something adequate as on opportunities, so and on price.
Why something even tickets on specific date and concrete train in France adopted busting. On-my, this not fits in neither what logic. I understand, when this is done, as, to example, in Italy with tickets on regional trains without accurate dates, but here. There is no, "mind the French not understand."

That I can say pro Marseille in completing? Perhaps, this not the most the best city on earth, but conduct here 1.5-2 days (in a good weather, of course) well can be, if of well-wasn desires "resources." For example, go on marine hosts on kalankam, as here call maritime rocky coves. Or on bus ride (truth, with a transfer) get slightly sub-, in town Cassis (http://www.marseille-provence.info/plac … assis.html), where can be admire those same kalankami from above. Or in not less picturesque, than Vallon des Auffes, place to the northeastern west from Marseille (http://www.marseille-provence.info/plac … eille.html), where Sea and terrain sushi create many natural beauty. Yes many what can be, are looking and choose: http://www.marseille-provence.info/places.html.
To the same very soon ToVP construction site walk away with streets Marseille: Good people prompted, that city elected European cultural its capital 2013, so that local construction zeal gained its rationale. And after this many, perhaps, see quite the other Marseille. Not doubt, that he will become cleaner and greener, and before with Vatican II certainly will cleanest, which would give main temple even more photogenical value.

And I invite all readers follow with us in Arles! Truth, after a small and quite not advertising pause.